Today isn't a usual post day but it's a short week and I wanted to get in with the lovely ladies who host the
Me Myself & I
link-up.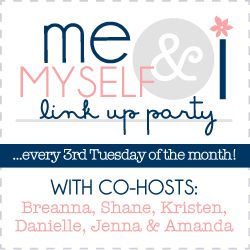 I think this is a great idea since I enjoy reading the random tidbits about other bloggers. And I feel as though this gives you a more diverse "picture" of me. Things I wouldn't normally mention or talk about.
Here are this month's questions:
a - The Year Without a Santa Claus
c - How The Grinch Stole Christmas
(the one with Cameron Diaz and Jude Law)
e - Nightmare Before Christmas
2) It's the month of giving thanks, what are most thankful for?
Other than the generic health, job, roof over my head, etc. I am truly most thankful for my niece. It's been a very difficult year and she has truly been a blessing in disguise. I look at her adorable little face and I see hope that things will eventually get better. I'm also thankful for my boyfriend. He has truly been a rock this year and I'll forever be grateful to him.

3) If there was a quote or verse to describe your life, what would it be?
"Even through the darkest days this fire burns always"
This quote is very near and dear to me. They're lyrics from a favorite band

(do you know it?)

and I feel it's a testament to who I am.
4) Who in your family are you most like?
My mom - no question. We look and sound alike. We have the same fashion tastes/dislikes and the same odd sense of humor. I'm happy to call her my friend.
5) What is your favorite drink order at Starbucks?
Hmm... I'm not a Starbucks junkie like most of you but I do have a favorite or two. In the summer I'm kind of obsessed with the green tea frappucino. In the fall it's all about pumpkin spice latte of course. And in the winter I'm a big fan of the peppermint latte. if I want regular coffee, you'll find me at DD.