Hello crazies!
How was everyone's weekend??
I for one was the epitome of lazy. Ok, only on Sunday. My weekend wasn't thrilling by any means. I spent the majority of it in pain.
As you know my company holiday party was Friday night. Let me tell you I danced the night away! I mean literally I was at it all night. I kept it as tasteful as possible, at least until the after party and then I wasn't as worried. I called it at night at around 2:30am and my awesome boyfriend picked me up in the city so I had zero worried about getting home.
I didn't win any prizes this year but I did have an awesome time with my coworkers. Some pictures from the night...
The pain came sharply on Saturday morning. My legs were
so
sore. Sadly, I hadn't been out dancing in well over a year. As in, I can't tell you the last time I went dancing. My former BFF and I used to go every Saturday but with the falling of our friendship, so went the dance parties. Clearly I need to go out more often
or start working out
. I can't have legs this sore the following day.
As for Saturday I helped a friend purchase and move a bed into her new apartment. Usually this type of thing would be stressful chock-full with mishaps. When I say it was executed flawlessly, I mean
flawless
. There was not one snag throughout the whole process. It was handled, as Rick Ross says,
Sunday. Oh Sunday. It was probably the best day of the weekend aside from Friday night. I lounged around in my underwear all. damn. day. And it was glorious! I watched slept through the Giants getting shut out. and you know what? I'm glad. They scored not one point. Not even a field goal. I don't know what was going on today but it better get fixed. I'd like to make it to the playoffs, thank you.
I also had my first pomegranate. Have you ever had a fresh one of these bad boys? I'm still on the fence I think. I mean, I love the flavor and the juice but the fruit itself is... different. At first glance of a picture I thought the seeds were wet, like the flesh of a kiwi. Instead, they're sort of like popcorn kernels. But they're so full of juice, those little arils. I may buy another, it's takes a bit of time to get those little jewels.
I felt homey on Sunday night so I made pork chops and with veggies and quinoa. Guys, I really love quinoa. How weird is that? It's so, so delicious. Plain quinoa tastes like plain rice. But you can literally flavor it in any way. I sprinkled mine with salt, pepper, garlic and lemon. Scrumptious!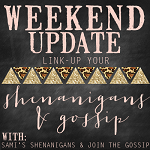 *******************
I would like to remind, or invite, you all to take part in the Blogger Day of Silence for the families and survivors of the Sandy Hook tragedy. If you haven't seen the posts going around, please go
HERE
to read what this is about and to
make a donation
to Newtown families.