Given that it's the last Friday of 2012 I think it's only appropriate to link up for the last Friday Letters of the year.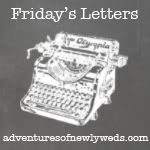 Dear 2012: I don't even know where to start. You've had some bright moments and you've had soul crushing heartbreak. But we made it through and I'm glad to close this chapter.
Dear Congestion: I know we've had our differences. Usually I take the high road and just try to ignore you and go about my business. But this time I have to say, you're truly pissing me off. Please just Go. Away.
Dear cats: Please stop trashing the house while I'm at work all day. I don't appreciate coming home to cat food all over the hallway, spilled water or broken ornaments. You're trying my patience. Keep it up and there will be NO catnip.
Dear Christmas: Thank you for coming and going with as little pain as possible. It was much appreciated.
Dear Blink Fitness: I'm excited to get on your bandwagon. I've needed to join a gym for awhile now and it finally seems like things are in place to do it. Thank you for running a special and making it less than $20 to join. I promise you'll be seeing me at least 3x a week.
Dear 2013: I've been looking forward to you for a long time. For almost 6 months already. I'm hoping to make the most of you. I've got a lot I want to accomplish and I'm hoping we can get it done. Last year's to-do list was put on the back burner. Let's see what we can cross off shall we?
Dear Readers: Without all of you none of this would be possible. Thank you for all of your comments, support, and laughs. I can't tell you how much I truly appreciate it. You've turned something to simply pass time into something I truly love doing. It's still a hobby but it's one I actually want to invest time into. So again, Thank you.