Happy Monday loves!
I can't lie - I saw this image and I actually felt bad for the first day of the week!
Myself and a few other ladies are giving away some goodies over at
Pretty Little Endeavors
. Go get yourself entered.
I decided to take a personal day on Friday because the week had me drained by Tuesday morning. Yeah... not a good sign. It was nice to take some R & R.
Jen and I both took the day of and ended up at the Newport Mall in Jersey City. One of the only malls in our area I've never been to.
(Seriously, although NJ is the "Garden State" it should be renamed the "Mall State". There are 5 malls within 10 miles of me)
Sheaffer
is always praising Loft. She's like their unofficial spokeswoman. I never shop here because I just can't justify spending $50+ on one shirt. I know it's quality, but I could get at least 2 somewhere else. But on Friday, I discovered that sale really does mean sale.
I didn't plan on buying anything, but this pretty blouse jumped out at me. $49.99 with an additional 60% off? Yes please! The blouse would have been enough but who stops looking during a sale? That's when this gorgeous yellow cardigan started whispering sweet nothings to me. You guys, look at that color!!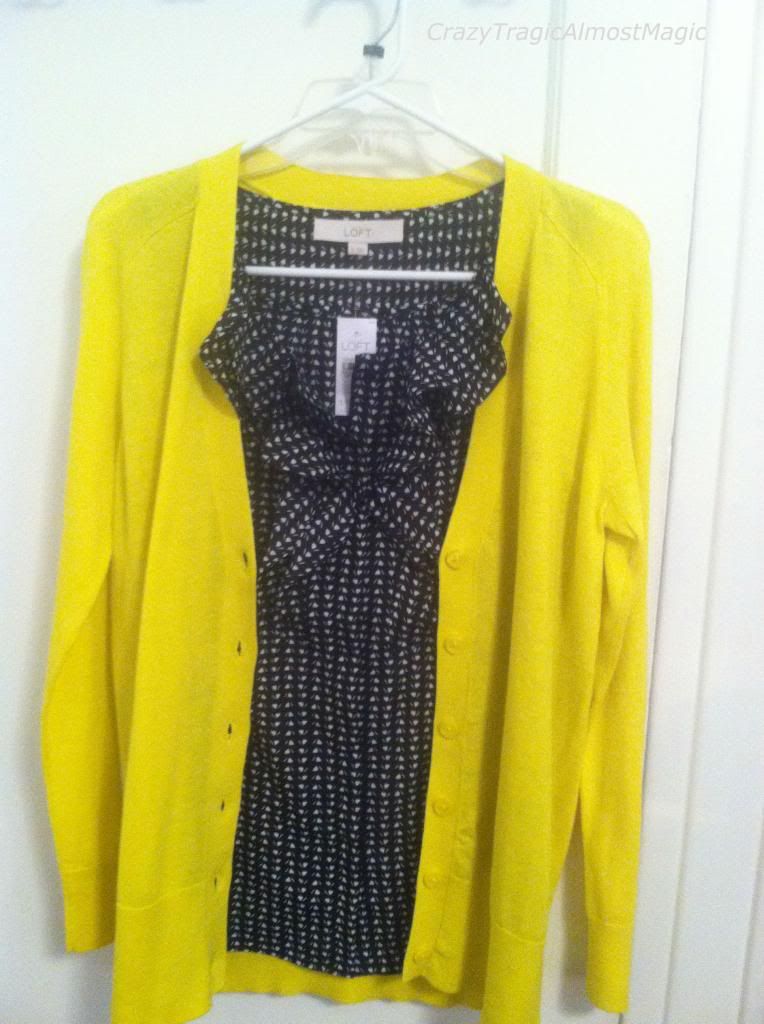 Don't they just go perfectly together?
I freakin' LOVE this store. Between here and Francesca's I'm in trouble! At least CC doesn't have online shopping... yet.
(It's coming... I asked)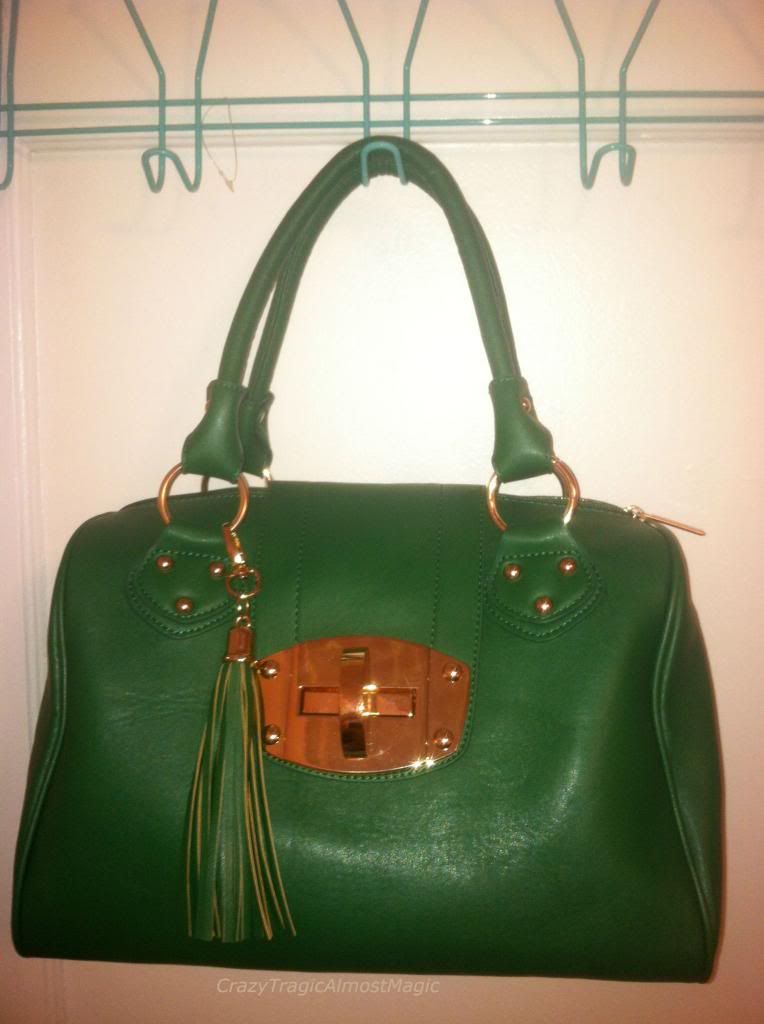 I picked up this bright green satchel for only $9.99! Originally it was $39.97. Complete steal! I can't wait to start using it.
I'm totally loving the mint trend that's going on right now. And with navy?! I die. Navy and mint go together like cupcakes and burgers! I picked this up at Target for only $10. It fits like a dream!
And lastly, these items...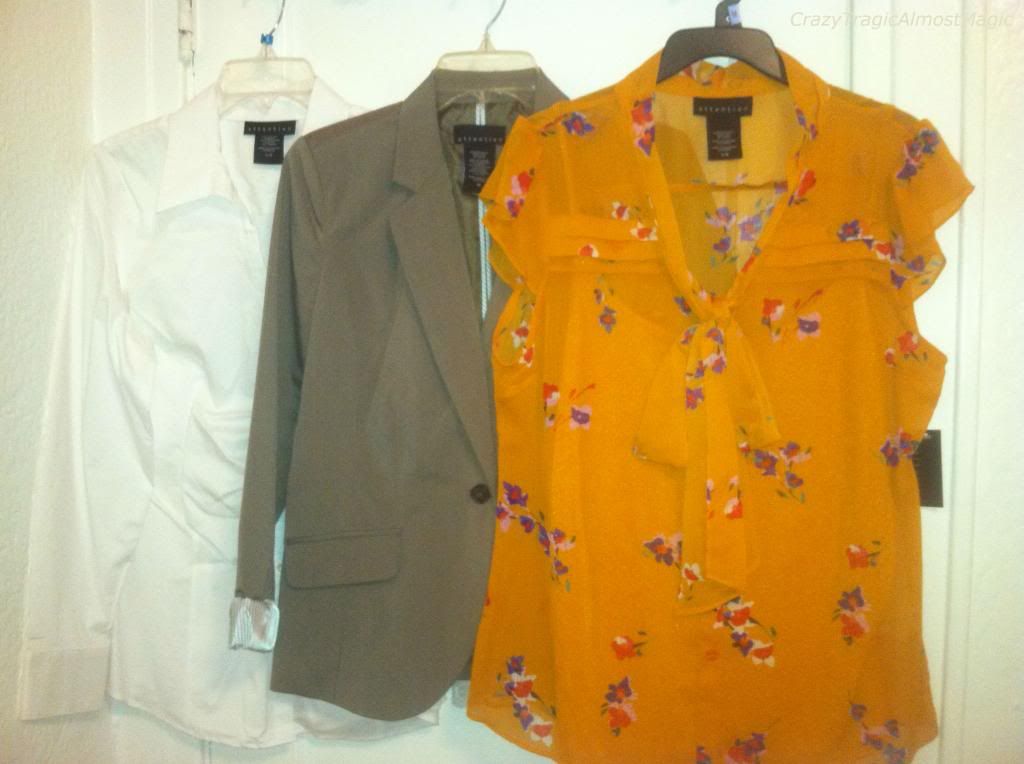 A white button down, a neutral blazer
(which looks way darker in the photo)
, and a fun sheer orange blouse. Cost? FREE!
Since they merged with Sears, Kmart has picked up their game and the clothing has become much better. Depending on what I'm looking for I'll come here. I have an orange dress that I get compliments on all the time...got it at K-Mart last summer. I had accumulated some 28,000 points on my rewards card, which is basically $28 for me to spend as I wish. I also had a Sears gift card that had a $4.62 balance left on it. Since the items were marked down with an additional 40% off, my total came to $28 and change. So, like I said, free!
****************************
And now, I have a predicament.
I saw these at Payless on Saturday...and I didn't get them. Sure I like them, a lot actually. They're flats, have a bit of a heel so they won't aggravate my ankle, and most important, they're leopard.
Sheaffer
says everyone should have leopard flats. And she's right. We
all
need them
(even you Mark!)
The thing is, I didn't think I love them. I need a pair that I can wear with everything - naked, pants, jeans, skirts, dresses.
Where o where art thou leopard flats?!
(Hint: This is where you come in)