What a weekend y'all!
I took a mental health day on Friday and it was fabulous! I went to the gym, cleaned the house and played tennis with K. Let's just say that I am the best need some practice. But I do have one hell of a serve. By Sunday night my new found muscles were sore.
Saturday was a lazy morning watching movies. I didn't want to use all my energy before the big meet.
Blogger meet that is.
I had the pleasure of meeting one of my favorite ladies in blog land, Erin. You know, that puppy obsessed, Blue Moon lovin', sassy pants girl we all know and love from
Two Thirds Hazel
. I also met 2 new-to-me bloggers, Setarra from
The Burghal Girl
and Kaitlin from
A Dogwood in Brooklyn
.
We met for a boozy brunch at The Sunburnt Calf on the Upper West Side. $20 for a good burger and endless mimosas? I think yes. Of course that wasn't enough drinking so we made our way over to The Stumble Inn to keep it going.
Setarra, Erin, myself and Kaitlin
Throughout the day I learned a few gems.
One, assholes shall henceforth be referred to as "pickles with ears".
Two, when you're singing Happy Birthday to someone, make sure you remember their name. Otherwise it's hilariously awkward.
Three, and I already knew this, but I feel the need to reiterate, day drinking is the way to go.
Later that night I hung out with friends for Wrestlemania.
The cool thing (to me), it was held here in NJ at MetLife Stadium.
I have no idea why I actually watched it. Oh wait, sure I do.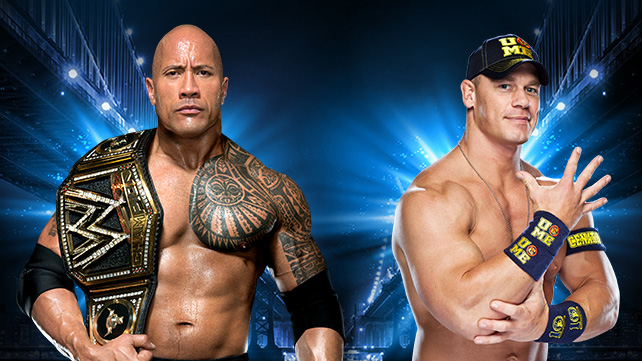 Who doesn't love The Rock? Oh Dwayne... let's hang out. I promise it won't be weird. All you need to do is hug me... and carry me around. Don't worry John, I haven't forgotten you, you're invited too.
My love for a strong upper body is almost unhealthy. It's my kryptonite.
Here we are with Monday peeking out and trying to spoil all the fun. I woke up from trying to stay alive all night. Zombies are cool and all, but they are truly my living nightmare. And of course that was my dream. It was like living on Dead Island
(that's a gamer reference if you were wondering).
Everywhere I went, the bar, a train, a bus, a house - zombies. And then, when all hope seemed lost, a zombie came, and our small band of survivors was surely doomed... but then!
Vampires saved us! (?!?)
I fought it but they started to bite people. They were fine but when it was my turn I was fighting it. Finally I caved and he bit me
(and it was heavenly)
and all of a sudden everyone was safe again.
Oh I know what you're thinking... what the fuck!?
My thoughts too.
And with that,