All I need to say about this weekend is that mama loves the shore.
I need to live there. Or just have the money to rent a house for the season. I'm not picky.
I have no idea...
It was a gorgeous day though. Partly cloudy but they kept rolling by. I ventured into the water and it was freezing but after having been in the ocean in February, it didn't phase me. This week will be busy for me. Nothing much going on tonight. Tomorrow I'm going to a movie screening. Wednesday I have an interview. Thursday is DMB! And Friday is Friday!
As for today's title, don't worry, no wedding bells here.
Weddings are increasingly expensive, am I right? I look at people getting engaged and the first thought I have is
how do they do it?
I have mine all planned out on
Pinterest
of course and in reality, I do have things in mind for what I'd like, but I can assure you it will be budget friendly.
Apparently Target agrees.

Tuesday morning I was listening to the news and they were talking about Target. Of course I stopped to pay attention.


Target is now offering a bridal line!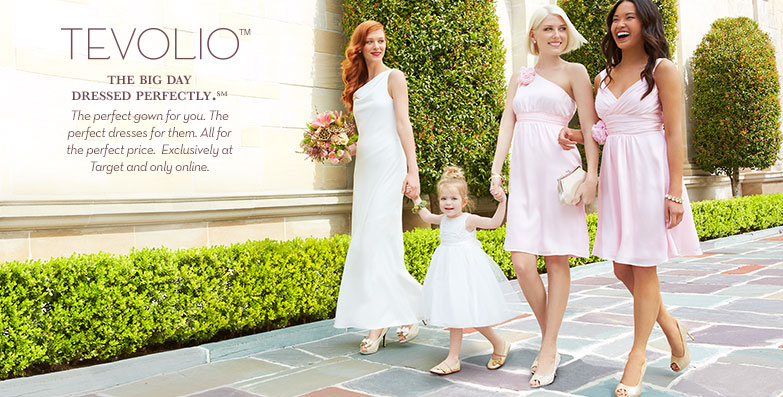 And even better, it's all insanely affordable!


This bridesmaid dress comes in several gorgeous colors and range in size from 2-28W.

Starting at $69.99 they're perfect to wear as a guest or for any other dressed up occasion. 

There's a
fabric glossary
in case chiffon, taffeta or shantung are foreign words to you. They have a
sizing chart
to make ordering easier. And let's not forget those studly grooms! Target also offers
tuxedos
, suit separates and boys' tuxes to make sure your men are dressed to the nines as well.
The Tevolio line is exclusive to Target and is only online. To me, this is the only downfall as I hate buying things without being able to try them on. The line offers bridal gowns, although I think the selection is very limited, as well as bridesmaid and flower girl dresses.
Personally, as much as I'd love to have the money to spend on a Kleinfeld's dress, reality says otherwise. Finding a wedding dress can be not only expensive, but stressful. I like that Target is now offering a more affordable solution for people who have a tight budget. Of course these won't be for everyone but if you need a dress on the cheap, it's a good option.


What do you think? Would you buy wedding dresses at Target?
* I received no compensation for this post and all opinions are my own*