Well, here we are Thursday Wednesday night, no Friday post scheduled and a bottle of wine gone... what better time to start writing, am I right? Yeah, probably not. But this here's my blog and I do what I want!
Lately I've had some serious writer's block. I don't know what it is. I'm just not feeling inspired, and I hate that. I'm hoping this weekend's stay-cation will cure that. Maybe give me some fresh perspective and all that jazz. Who knows. Have you ever had drafts in the queue, but you look at them, half typed, the promise of a good post fading? Yup... that's how it's been. Like eating the same turkey with provolone on wheat. Everyday. For a week.
Sometimes, just sometimes, there's a post I've written that I really like. One that I'm excited for. And I'm sure you feel the same way. You know, those posts that you couldn't type fast enough.
Well, that's where Weekend Reads comes in. Paige, from
A Dose of Paige
, has created a new link up and today, I'm co-hosting! Here's Paige to tell you more!
Last time, we had 38 links with 193 clicks total! I think that's pretty great considering it was the first one! Let's see if we can beat that this week!
Not really sure what I'm talking about for this link up?
Essentially, the idea was born one weekend when I was sitting at my house and reading the blog posts in my queue on Bloglovin'. I eventually ran out of new blog posts to read and had a difficult time finding new blogs with great posts that sucked me in.
So, I decided to make a link up for readers like me. Maybe you wrote an amazing post and you want to get it out there and read other amazing posts. Maybe you just really like to do your blog reading on the weekend but after sifting through your favorite blogs, a few giveaways and a few sponsored posts, you realize that you didn't have much to read at all!
This link up is here to fix all that!
Here are the details:
1. The link up will go live every Friday at midnight CST.
2. You can link up to two posts.
3. Only link up posts that you've posted in the past 14 days.
4. Do not link up any giveaways unless they are attached to actual content.
5. Spend some time, click on some posts and leave a few comments if you loved what you read!
6. Be kind and follow your hosts on your favorite reader.
Also, if you love twitter and want to get your post out there, use the hashtag #weekendreads to shout your post out!
Next week, the most clicked on links will get featured so tell your friends and get to clicking!
**Please add a link with the title of your blog post, not your blog name! It will help draw clicks to your blog as the title tells people what the post is about**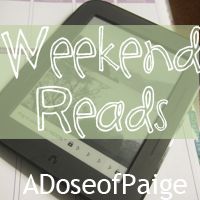 (If you'd like to share the button, please do!)