At the beginning of the month I always post about what I want to work on or accomplish for that month. In September I decided to join in on a fun link up aimed at goals.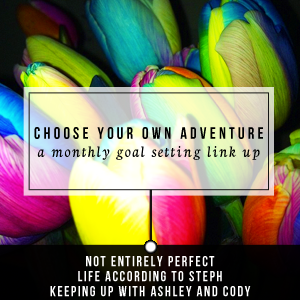 Each month has a theme, but you get to choose what you want to do. For September, we worked on fitness.
My goals were to add new activities to my gym routines, and to stay on top of my clean eating. My results? 50/50.
Last Friday I mentioned that K had bought me personal training sessions. Yesterday was my second session. Tyler's energy is motivating and partly, I refuse to let him think I can't do something, which ultimately pushes me past my I can't do this anymore thoughts. Tyler is going to be my new BFF.
As for my clean eating, that's been a little more difficult. In other words - fail.
Other goals for October:
1) Downsize my clothes.
In recent years I've acquired a lot of clothing and like any real girl, I keep stuff just for the sake of keeping it.
What if I need to wear this blue shirt someday?!
You know, the same one I haven't worn in two years... It's time to cut the
cord
hanger.
2) Handle my food.
(This fits in nicely with October's Choose Your Own theme)
You guys, I've pretty much been off the clean n' green rails since July.
Yikes!
I can't keep doing it. I'm starting to feel like crap in general and I've gained 8 pounds since May. I'm not okay with that. Tyler can handle me and I'll handle the kitchen!
3) Recommit to this space. If you've hung around all summer I owe you many, many hugs... or cupcakes. The choice is yours. This blog was like Kevin McAllister on the way to Paris - Home Alone. I love this little space of mine, and apparently so do some of you (thanks!) so I want to make a point to get back in the saddle and give it more of my time.

4) Pin to Table. I've pinned SO many recipes and food things. I want to make at least 2 of my pins this month.